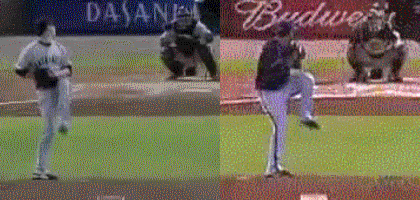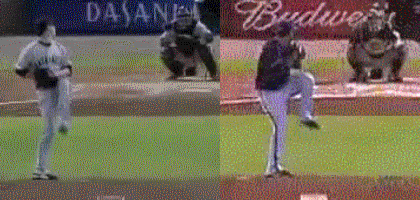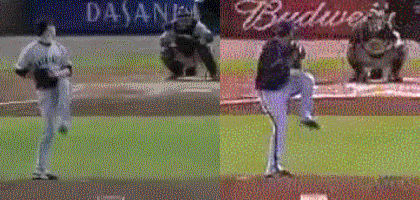 Wow great comparison. Never realized how similar they were!
nice vids
i like how both there arms act like whips
will people stop saying "how amazing tim lincecum is", sorry to tell you guys but he was 7-5 with a 4 era in the weak hitting, pitching ballparks nl west.
he could out pitch you any day. Plus you can't expect a rookie just coming into the league going 12-0 with a .32 ERA
"he could outpitch me anyday" oh really you think, good comeback.
anywas until he does anything dont call him amazing because he throws hard
were calling him amazing just cause…he is,its hard to believe a pitcher that scrawny throws 100 mph. Simply AMAZING
sorry i view pitchers as amazing as by what they do, not by what stuff they have
the things they do is influnced by the stuff they have. JP Howell has a below average speed on his fastball but the movement drives hitter crazy
exactly, a pitcher that does real good is amazing, not someone who has great stuff but doesnt do good.
7-5 with a 4 era as a rookie? Sounds pretty damn amazing to me. He's not an eight year vet, hes a rookie, that spent hardly a year in the minor leagues and went 7-5 as a big league rookie. Yes, that is amazing.
How can you not call Lincecum amazing? If i am correct, some nobody named Sandy Koufax had an average era of 4.06 in his first 5 seasons. And how about Nolan Ryan going 6-9 in his second season? I wouldnt exactly call those two average baseball players, would you? So dont ever judge a player on his first couple of seasons and 7-5 isnt that bad.
thank god people are here to back me up :lol:
im not saying me wont turn out to be amazing but until he does something real good hes not amazing. by the way era of 4 in nl west is not good.
wow #3 pitcher on one of worst teams in mlb. that is amazing
you wont ever give up will you
i guess we will haveto agree is disagree on this one
yep i guess so. so let me get this straight, you think tim lincecum stinks becuz he went 7-5 with a 4 era in his rookie season when he was drafted in 2006