Can't find any clips of the Doctor?
Roy Halladay?
GIMME A BREAK MAN
Sorry not the best videos ever made but the first ones pretty decent and the second one you can't see waist down sorry about that I'll try to find some more
very short LONG TOSS video of Roy Halladay it shows how he throws during long toss and how he moves his feet and that he throws on a line. The video can't follow the ball but you see the catcher catch one and it comes in on a line and you get two pretty decent looks on his long toss fgeet movement and stuff.
Hope this helps somewhat
Here is Halladay from the windup and stretch.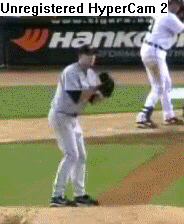 if you dont know Dr. Halladay. wow just wow. anyways theirs one video in pitching clips.com. but someone already put it on here