Does anybody have clips of Beckett
Hold on one sec I'll get some.
Here:
jpeavy44 how did you get that video off of the mlb.com website…I don't know how to get these gif files and would like to learn.
Thanks,
I'm going to PM you because there are some things that vary.
From the 2000 Futures game in Atlanta.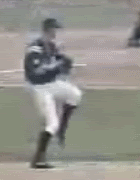 xv this may sound weird but…I love you
Just to clarify he means no homo xv.