Anybody have anything on Edison Volquez of the Reds? The guy gets tremendous hip/shoulder, as well as core, separation.
I know they have one on calleaguers.com and theres another one on youtube thats pretty good. and his name is Edinson not Edison, might be why you couldn't find any.
I actually made this a few days ago. Here he is next to Santiago Casilla. Similar glove arm, throwing arm, and lower body action. Volquez has a later hand break.
Both of these pitches were changeups.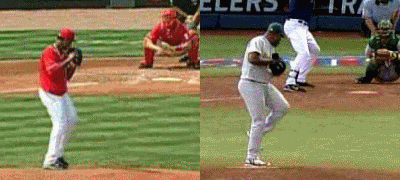 thats crazy how similar they look! Before I read the paragraph I thought Casilla was Volquez and I'm saying to myself when did he play for Oakland? lol good comparison.