Would it be possible for chris young, the padres guy?
you don't want to pitch like him some of the worst MLB mechanics.
Is there something really bad with his mechanics?
alot is bad about his mechanics.
Stride is to short
Bad Back stide hip drive
For his size if he had good mechanics he would throw harder then 89
How about micah owings?
I'm 6'0,
THrow only 55, but i get people swing at really bad things, and to pop up a lot of things
The best thing to be the best pitcher is find your own style and work on refining that till you have good momentum and timing.
Awful mechanics. Basically throws "like a girl". Abrupt follow-through. Front foot lands open. Front shoulder opens early. Very little separation. Throws "uphill".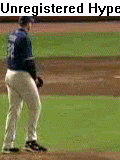 Young has one of the more deceptive deliveries in baseball because of his height. Hitters regularly swing through his 88-90 mph fastballs.
[quote="xv84"]Awful mechanics. Basically throws "like a girl". Abrupt follow-through. Front foot lands open. Front shoulder opens early. Very little separation. Throws "uphill".
Not sure who we are to tell this guy he has bad mechanics when he's in the big leagues and the last two years he's posted an era in the low 3's. When this guy signs a new contract he's going to be making well over 10 million a year with those mechanics. Must work for him.
I'd laugh if somebody told me I throw like a girl and I'm in the big leagues making bank.
he's 35-22 in his career with an era of 3.6 and a whip of 1.1. Never had a season where he was under .500. In that same time frame Gil Meche was 38-35 with an era around 4.5 and a whip around 1.5. Gil Meche just signed a huge deal with the Royals and made 7.5 mill last year. Young actually has very very similiar numbers to Scott Kazmir. Not so bad I guess.
He certainly has a few things going for him that attributes to his success. His height and the ballpark he pitches in. He utlizes his height even more so with a high arm slot and fly balls die in Petco park. I know he's glad to get out of Arlington.
If you check out his home/road splits for 2007, he had a home ERA of 1.69 and road is 4.52. He is a notorious flyball pitcher and Petco Park definitely helps his cause.
I don't want to take anything away from what he's accomplished, though. If something is working for him then so be it. But I don't want to be ignorant and accept that he has "good" mechanics. If he was 6' instead of 6'10", he'd be nothing than a 4th or 5th starter on an MLB team throwing 85 MPH with the same mechanics. At 6'10" he should be at least be around 95 MPH. But he's only throwing around 90 MPH.
Scott Kazmir's mechanics are way above Young's. You can't compare the two numbers-wise anyway, since they're in different leagues and divisions.
Most MLB starters are overpaid. Any starter posting an era above 4.00 should not get $10/year. If anything Gil Meche was probably underpaid. And Barry Zito may have been one of the worst contracts.
You said at the beginning "I don't want to take anything away from the guy"… then proceeded to state how he'd be if he were shorter, and tried to bring up a bad split that he had. Everybody has bad splits! Pedro probably has a bad split on August 12th when he throws fastballs up to a lefty on the road for a day game. I mean comeon.
I wouldn't say Meche is underpaid. 7 mill a year with the numbers I mentioned in my post? A 4.5 and a 1.5 whip? Chris Young is underpaid making 700,000 dollars last year with much better career numbers than meche.
For some reason you didn't like me comparing Kazmir's numbers to Chris Youngs career numbers. Is it simply because Kazmir looks better when he throws? Because their numbers are almost identical! Sounds comparable to me.
Ballpark factor is a big deal, and Petco definitely helps pitchers, especially fly ball pitchers like Young, but his splits in 2006 were the total opposite as 2007–he dominated on the road. It's just sample size really.
Either way, he's a very successful pitcher, and yes he will be making $12 mil+/year once he hits free agency.
Just for the sake of argument, what is wrong with Young's mechanics?
As far as Kazmir, I agree that he's explosive and does some good things, but I've heard his reports from his evaluation at ASMI was not glowing. That's part of the reason why the Mets traded him.
[quote="palo20"]
Just for the sake of argument, what is wrong with Young's mechanics?
As far as Kazmir, I agree that he's explosive and does some good things, but I've heard his reports from his evaluation at ASMI was not glowing. That's part of the reason why the Mets traded him.[/quote]
well that turned out to be the stupidest mistake in Mets history except for trading Tom Seaver and Nolan Ryan :lol:
I'd say the Kazmir for Zambrano trade was THE worst trade they've made. Ignore the 'what if' game, a lot of stuff can happen when you play that game, if you purely look at the trade (s) for the time they happened, Kazmir for Zambrano was horrible.
Here's a brief synopsis of each trade at the time:
Ryan for Fergosi
Most people forget that when the trade was made at the time, there wasn't much to complain about. Fregosi was a light-hitting infielder with a decent fielding percentage and looked to be a solution for the Mets' continuing problems at third base; Ryan was a wild fireballer with a 29-38 record, 344 walks and 493 strikeouts in 390 innings over five seasons. Frankly, the Mets didn't think he would amount to much more than a .500 pitcher. Not a bad deal at all at the time.
Seaver for Henderson, Zachry, Flynn and Norman
As far as the Seaver deal well instead of paying Seaver what he was worth, Mets chairman M. Donald Grant orchestrated this trade. Even though Seaver was never quite "Tom Terrific" with the Reds. They got pretty players in return:
First off, the Mets got Cincinnati's best hitting prospect and one of the better ones in baseball in Steve Henderson. Steve had hit for a high average and showed gap power to all fields during his minor league career. He immediately inherited Kingman's leftfield job and had an impressive rookie season, hitting .297 and driving in 65 runs in 99 games. He looked like the best young hitter the Mets had since Cleon Jones, and it was expected that in time, he'd develop homerun power to go along with his other tools. Steve also became a fan favorite.
Pat Zachry was just one year removed from being co-winner of the NL Rookie of The Year Award. In 1976 at age 24, Zachry posted a 14-7 record, gave up just 8 homeruns in 204 innings, and had a 2.74 ERA.
Doug Flynn was never going to beat out Joe Morgan, Pete Rose, or Davey Concepcion for a regular job in the Reds' infield, but in 1976, Flynn hit .283 in over 200 at bats in a part time role and was regarded as a superior defensive performer, especially at second base.
Dan Norman, the fourth player in the deal, was not as advanced as Henderson, but he had power and speed, and it wasn't that farfetched to picture him as the Mets' rightfielder of the future.
So, to summarize, the Mets got 4 young players: a major-league ready top-of-the-line hitting prospect, a starting pitcher with a 200-inning, 2.74 ERA Rookie of The Year season just behind him, a gold-glove caliber second baseman who'd hit decently as a backup, and another pretty good hitting prospect who was probably at least a year away. Not a bad deal for them at all.
Kazmir for Zambrano
Zambrano at the time was a career 35-27, 4.47 pitcher in 135 big league games. After the trade he made just three starts and then went to the DL for the rest of the season. That same year Kazmir made his Major League debut. He pitched okay. The next season (2005) Kazmir made 32 starts winning ten of them and loosing just nine while maintaining an ERA of 3.77. That same year Zambrano made 27 starts winning only 7 while losing 12 with an ERA above 4.00. From this point on many started to call Zambrano a total BUST! The worst trade at the time.
Please note I got this information from various sources along with my own opinion
[quote="xv84"]Abrupt follow-through. Front foot lands open. Front shoulder opens early. Very little separation. Throws "uphill".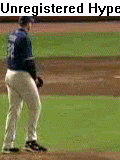 [/quote]
But the KEY is it WORKS for HIM. If he's been Pitching like this his whole career, then he's good to go. Now I wouldn't advise teaching a younger Pitcher his mechanics or teaching someone to change his mechanics to what Young does because chances are they'll get hurt.
As Hammer pointed out, they guy can flat out Pitch and has shown some good numbers.
I agree with hammer. Who do you think you are? Who is anybody to claim that somebody's mechanics are, "bad"? I think everyone should steer clear of making such absolute judgments. Stating things you don't like is fine; want to state things you wouldn't do in your motion if you were him, go for it; things you feel would make even throw more affectively, great. Stating your beliefs and how you feel is great, but to say that successful major league pitcher, or anyones mechanics for that matter are, "bad," seems kind of ridiculous to me. You're not God; critique, don't judge!
No pitcher has perfect mechanics. The main things I don't like are the open foot and abrubt follow-through. Are those acceptable mechanics?
I never said I wanted to change him. If he can repeat his mechanics then that's probably more important. He does keep it simple, and he has to since he's so tall.
As for his numbers, I wasn't the one to bring them up anyway. I'm just more concerned with the mechanics. There are tons of MLB pitchers with good mechanics and poor numbers to show for. There are also MLB pitchers with great numbers with poor mechanics to show for: Prior, Wood, Liriano, etc. Some guys have good mechanics but don't know how to pitch and some guys have bad mechanics but nasty stuff and know how to pitch.
I don't think looking at (good) numbers before (poor) mechanics are the way to go.
Hammer, you can ignore the home/road splits all you want, but of the top ten ERA leaders in the NL last year, no one had a more extreme split than Young. A difference of almost 3 full earned runs between home and road. Surprisingly Roy Oswalt was the next closest at around 2.8 difference. Everyone has bad splits and if you want to bring them up for each pitcher that's fine. If you are going to really analyze a pitcher's numbers, don't stop short of just looking at the overall season numbers.
The statistics part of my argument doesn't have anything to do with his mechanics really. Again, I didn't bring up the numbers. You brought them up and proceeded to compare him to Scott Kazmir. Numbers-wise they may be similar, but mechanically they are not. Again, I'm not really concerned with numbers as it relates to mechanics in this thread. Honestly, I haven't even taken a good look at Kazmir's numbers. Why? Because I really don't care to compare the numbers. Because, once again, they really don't matter in this discussion of Chris Young's mechanics.
Hey just wanted to note, I just re read my reply above and realized that it may have came out a little harsh lol… Just wanted everyone to know that that wasn't my intentional tone. I'm not like mad or anything at anyone lol. Was just giving my 2 cents. Hopefully no one took it the wrong way :lol: