And his super high leg kick. Comparison to El Duque, possibly?
Willis doesn't have very good mechanics. The only thing I like is the high leg kick.
It wasn't for the mechs. I just wanted to see his leg movement esp. kick.
Thanks. Uck, he like tilts his back during leg lift, opens up really early, and has no glove side control.
This is old and I think he changed them some.
At least… I think.
Here is one from spring training.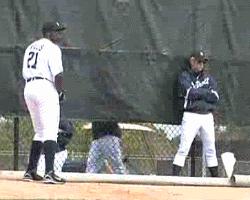 Nice clip. His mechs seem better, too. It still looks like he's throwing all arm — he gets slim to no momentum after his leg kick.
Is it just me or does it look like he has decreased his leg kick somewhat? Or maybe it's just because of the different camera angles…
I don't think he was throwing 100% effort in the clip. Also, it looks like a changeup he threw.
Yes, the effort did seem a little lack in the ST clip, I did notice that.