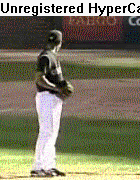 GIANT inverted w. He's going to need shoulder surgery soon.
Lots of top surgeons on this website.
He's a reliever. He should be safe for a while.
Relieving is just as taxing as starting. Less innings, but many more appearances, warming up multiple times per game, pitching 2 or 3 nights in a row–it all adds up. There's a reason why it's tough to find consistent relievers year in year out. It wears you down.