Unofficial MLB tale of the tape.
Oswalt 6'0" 190…Lincecum 5-11" 170
For those that may have missed it….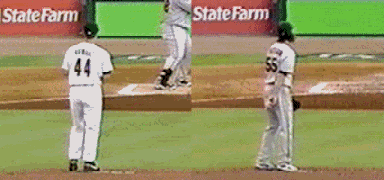 [quote]Because he was so slightly built, he had to use everything he had to propel the baseball-arm, legs, soul.
Young Roy had seen enough to know that most pitchers start their delivery with one foot parallel to the rubber. This made no sense to him. He was trying to drive himself toward the batter, like a sprinter breaking out of the blocks. Sprinters, he thought, don't plant their feet parallel to the starting line; their feet are pointed forward.
So that's how Oswalt designed his pitching mechanics, with his back foot, his right foot, angled slightly forward. He raises his left foot, pauses slightly, then hurls his body at the batter, more like a javelin-tosser than a sprinter in the end. Nobody else in the majors uses mechanics like these, and no pitching coach would teach them unless he was considering a change of profession. But batters have confessed that Oswalt's motion can be unnerving, this wiry sixfooter leaping at them like a mugger. He throws 95, and the ball ambushes them. "I can't think of anyone who can keep the ball on a low-line trajectory as well as Roy does," says Roger Clemens. "Good plane with late life. Nice combo." [/quote]

Below comparison has Lincecum from a modified leg lift…a 91mph pitch from him incidentally.

Both were working 92 to 96 on TV radar …Fan graphs 4-08-10 reported averages: Lincecum 92.3 Oswalt 93.
http://www.fangraphs.com/leaders.aspx?pos=all&stats=sta&lg=all&qual=y&type=4&season=2010&month=
Drew a vertical line in same location to help highlight some of the differences. CF camera wanders as we know but it's stable enough for our purposes.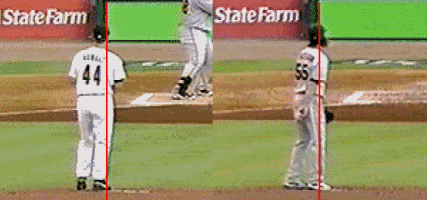 So :lol: …any opinions on who has the more "efficient" mechanics, among these obviously already highly mechanically efficient pitchers?? :debate: